As a product or service provider, you are focused on getting business. No matter how innovation-focused you are, or product-focused you are…eventually, it's the revenue that matters! Money makes the world go around, and pays the bills!
Revenue means Customers and getting to Customers, gaining their trust is easier said than done. There's a lot of competition, 'me too' type companies with similar product/services, cutthroat pricing, and lots of noise in a crowded market. Companies react to such situations in different ways…
Some just don't address the lack of Customer problem… they remain heads on their product and delivery. Keep existing customers happy. But they forget that people change, businesses evolve, and no matter how happy the Customer is there's always room for them to switch from your product or service. Nothing lasts forever! I'm guilty of this myself!
Some just try to get well-connected Salespeople (networking) and go with it at guns blazing!!! And that seems to work… But make no mistake everyone's rolodex eventually runs out. And if there's not a significant top of the funnel (ToFU) then you suddenly find yourself in a situation where you are out of people you know who will give your product/service a chance.
The Sprayers and Prayers… Get an outbound calling agency (aka appointment setting agency), make a script, and start making calls left, right, and center. Add emails and LinkedIn messages on top of it to make it look like a perfect recipe. But alas… how wrong they are.
So, Trust doesn't always equal to revenue growth. It's necessary but not sufficient. Similarly, connections don't always result in revenue growth. And lastly, randomly calling people to generate business is not even the last thing you should do expect consistent growth.
Fundamentally growth must be consistent. It's all about consistency. Relationships with Customers are built on Value Add, Consistency, and Trust. Put yourself in your customers shoes and ask yourself… Would you want to buy a product/service from you? If yes, why? What compelling reasons are you giving yourself to avail that privilege? Is there value-added, is it consistent and does it help build TRUST?
So, is there a framework to build that TRUST? The casually thrown around answer is Marketing. But one must realize that Marketing teams are necessary but not sufficient. TRUST building is not just the Marketing team's job. TRUST building must be done by everyone in the organization right from the CEO to the first level employee. Trust building is an ecosystem play… many teams in the organization must interact with many people outside the organization consistently to being the TRUST building process.
Below is a quick framework for building trust/credibility with your company, product, or service.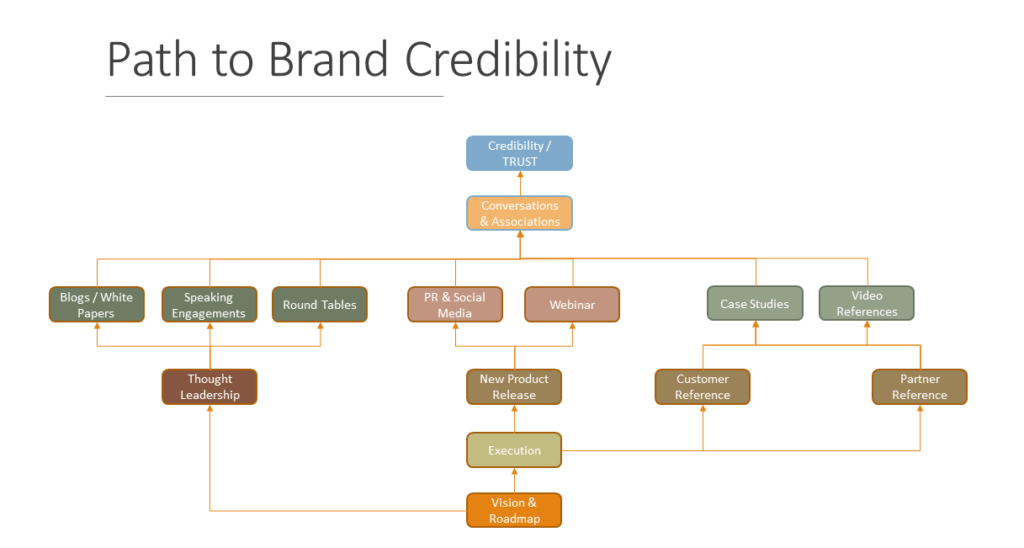 It must start with a bold vision of your company, product/service. Without a vision, your ability to create thought leadership is missed. Thereby your ability to connect with forward-looking companies is also missed. As a CEO / Entrepreneur / Intrapreneur, you must know what problems you are focused on solving for the industry and where that industry is going. It's your responsibility to make sure that you can share your thoughts about industry evolution and highlight the threats and opportunities.
Empty vision is of no use… If you can't execute the vision and roadmap, then you have nothing to offer to your customers. Hence, your teams must ensure that they are able to execute on the roadmap and keep the promises that they make to their customers. Without that, you will not have referenceable Customers and Partners. Without that there's no one giving the confidence that you can deliver the products/services you offer.
As you keep ahead of the curve and are leading the industry, keep them updated with your products. Your Customers and Prospects need to get the confidence that you know where you are going and that you can be their TRUSTED partner for them on their journey. And it's not rocket science to do this… just follow these simple principles:
Do what you say and say what you do… practicing this simple principle will take you a long way in building trust not only with your customers but within internal teams.
Care for your customer's business more, if not the same, as they care for their business. This will help you ask your customers/partners questions about their business they themselves may be trying to answer.
Keep communicating the value you are adding to your Customer / Partner's business from a financial and non-financial perspective.
How do you build TRUST with your Customers and Partners today? What's working for you and what's not? Would love to hear about your story and experiences in trust and credibility building for your product/service.